Tuesday, February 28, 2012
Tuesday, February 21, 2012
Here's an opening spread and full page illustration for Malibu Magazine. The article discusses the power and presence of the conservative class in an area typically viewed as being very liberal. The first image references the Friend's Of Abe, an organization of conservatives in the film industry that meet semi-secretly to discuss politics, in fear of facing prejudice and losing work due to their beliefs and ideals. Thanks to AD Julian Chavez for the gig.
Posted by

Leslie Herman
at 3:21 PM
2 comments


Thursday, February 2, 2012
Everybody come out tonight for the preview or tomorrow for the opening of my show with
Neal Iwan
at Ghostprint Gallery! There will be a super limited run of screen-prints for sale at the gallery if you get there early. See ya there.
Posted by

Leslie Herman
at 12:50 PM
0 comments


contact me
804 . 690 . 2917
les@leslieherman.com

Subscribe To


Posts


All Comments
Info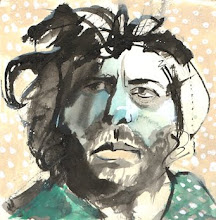 Richmond, Virginia, United States
Freelance illustrator accepting commissions.
View my complete profile